City rejects clear garbage bags (con't)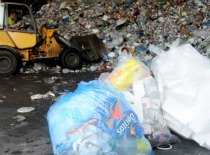 Solid waste general manager Eli Maodus said it's, "just one of the options out of the whole range of ways that we can try to get people to change their behaviour to (use) the blue box more."
He said the concept is "if you're throwing your garbage away and it's in a clear bag then the collector can see if there's recyclables in there."
Should such a program be implemented, the agency would use a carrot approach first and then likely a stick.
In other words, residents putting recyclables in their garbage bags would first receive reminder notices.
Then they might be penalized.
Said Maodus, garbage collectors would "leave a note behind saying, 'Look, there's recyclables in your garbage, you know, please, use your blue box if you have one.' If you don't have one let us know and we'll set you up."
Maodus said "that's how it's being used in other municipalities."Penalties could come later in the form of fines.
But the City of Sarnia rejected outright the idea of see-through bags earlier this fall.
Waste reduction officer Frank Velle said the idea was broached with citizens but quickly rejected.
He said that at an open house in September "residents expressed their displeasure" and the proposal was withdrawn.
"The public did not want that to proceed."
He suggested it was because of privacy concerns.
Maodus said privacy issues can be addressed by giving residents smaller opaque "privacy bags" in which they put items of a discreet nature and which are in turn placed inside the larger clear bags.
He said he was not aware of any privacy laws that would prevent the waste authority from implementing the policy.
"I'm not really familiar if there's any privacy legislation that applies to that," Maodus said. "I'll be honest. I don't know the answer to that. But I imagine if other municipalities are doing it, it must be fine."
Other municipalities in fact do order residents to use clear bags.
One of them is Madoc Township near Belleville.
Madoc Township treasure Chris Mitchell says residents are limited to four bags for pick-up every second week.
"If there are any recyclables within the bag the bag does not get picked up and a sticker is put on it saying it was refused because it had recyclables in it," she said.
She said opaque privacy bags are also permitted.
Mitchell said there were a few initial concerns about privacy.
"There always people who object to it but eventually they come around."
WindsorOntarioNews.com