---
---
French schools in Windsor-Essex bursting at the seams (con't)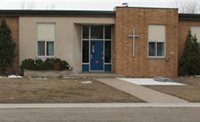 Not so "in the other neck of the woods (Windsor) where we're into portables, and in the county – basically except for the schools that I mentioned - we're full and at capacity and in certain circumstances into portables as well."
When the board was created in 1998 it had 6000 students and now has more than 9100.
Picard said the board is in the process of a couple of projects.
One is at Sainte-Thérèse in Windsor where the board is "just in the process of finishing a large addition."
Monseigneur-Jean-Noël (pictured) on the city's west side also is a priority for new space.
"Because of the great success that we've encountered over the course of the years obviously we put in our request for funding to the government," Picard said.
The money would go for expansions, not new schools.
"We have to look at what we're doing and how we're going to do this," he said.
"Because there is an increase and for all intents and purposes we have to study the patterns based on demographics amongst other things."
Meanwhile, at the other French board - the public one - "we are in the same situation," Conseil scolaire Viamonde spokeswoman Claire Francoeur said. 
"We just announced a couple weeks ago the opening of a new elementary school in Windsor."
This comes after the Greater Essex County District School Board decided to sell Oakwood elementary in south Windsor to the French board.
The sale makes it "possible to ease the pressure at École élémentaire L'Envolée, which is almost at capacity," the board said during the January announcement.
Board chair François Gratton said local families had been awaiting this decision "for a long time."
Meanwhile the city authorized the sale of neighbouring Oakwood Community Centre also to the board.
This will be only the board's third school in Windsor, the others being École élémentaire L'Envolée and École secondaire Michel-Gratton.
There are no county schools.
The board's vast geography extends as far east as Oshawa.
These French-run schools should not confused with French-immersion programs run by the two English school boards.
To enroll in an all-French school students must be of direct French background and are known as "rights holders."
However, about one fifth of the students in the entire Catholic board – which extends as far as Owen Sound – do not meet this criteria and had to be approved by an admissions committee.
"That is around for the entire board – 20.1 per cent," Picard said.
One of the types of non-French students seeking such approval are those from longstanding but assimilated French families.
"As to the amount of students that represents I would have no idea but we obviously within our policies and procedures have a strong consideration for that," Picard said.
They could also be students who have been brought up to speak French though not of French lineage and where the family has shown "depth of their commitment to the French language and culture," he said.
But the public board's Francoeur said it is "really rare" for such students to gain access to her board.
WindsorOntarioNews.com