One of latest freighter seasons (con't)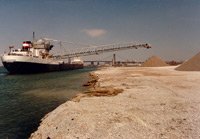 Cree said he spoke with the Lakehead port director last week and "they have very little ice up in Thunder Bay almost none in Lake Superior which of course by this time of year is very unusual."
Recent sailings have been some of the latest for a shipping season, which generally ends around the third week of December with closure of the Welland Canal and Sault locks.
Some years there will be sailing after this period but within that smaller geographic region.
"There have been the occasional years when product has moved down from Sarnia right through the winter into northern Ohio when there's obviously been demand there when ice conditions have allowed that," Cree said.
"And of course the US ice breaker does operate in this area so they can guide those ships through."
The local exception is the Windsor – Detroit truck ferry which operates all winter.
But don't expect ships to continue to sail right through the winter even if the milder weather continues.
Cree says there has "never" been a season like that and "I doubt very much" it would happen this year.
"These vessels – they're not going to keep them operating just for one trip here or there, the economics just don't work," he said.
He said the ships will "go to dock and winter berthing" and could be back out earlier than usual.
"It doesn't look like there's going to be much of an ice ridge."
Welland doesn't open until late March.
Ocean-going traffic or "salties" usually get out of the Great Lakes system by the third week of December or else they get "locked in," Cree said.
Meanwhile Cree said traffic in Windsor generally has been on a "steady" incline over the past two decades and recent infrastructure improvements such as the expanded $20 million Sterling Fuels and associated Miller Paving company docks have increased the port's capacity allowing two ships to dock at once at that site.
"We've had a very good run the last 20 years, depending on what year we want to compare it to we're up anywhere between 35-45%."
He said that's "not been the case generally through the seaway" due to a fall off in Russian grain shipments.
In the future, more liquid asphalt is expected to be off-loaded here for road building purposes, and much more aggregate as the Windsor-Essex Parkway project ramps up.
Cree said Windsor also benefits from the lowest port fees on the Great Lakes and cheap real estate.
LaFarge Canada and ADM have also increased their local marine terminals' capacity over the last two decades.
While the Parkway is being built Cree estimated three to four million tonnes of stone will be needed and "a significant portion" will come through Windsor.
Cree said the port is "not anticipating quite as good a year" for the landing of wind turbine parts because many southwestern Ontario wind farms have been built.
"We do hope at some point there may be some outbound from (Windsor manufacturer) CS Wind that may be going to other areas on the lakes but that still needs to be firmed up," he said.
In 2011, 945 ships docked here, compared to 979 in 2010.
Tonnage was also off just under five per cent.
Total tonnage was more than five million tonnes in 2011 compared to just over 4.8 million tonnes back in 2002.
Picture: Windsor Port Authority
WindsorOntarioNews.com