Pharmacists replace clinics for administering flu shots (con't)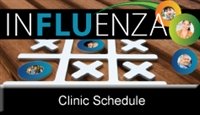 But, says Line Lauzon, the health unit's manager of vaccine preventable disease, that's because there's such an abundance of private pharmacies providing the vaccine – for free - this year and many of those are located in Amherstburg.

"The list is correct," she said, adding the health unit "looked at how accessible the flu vaccine would be in each community based on populations."

Lauzon said she understands there are four community pharmacies in Amherstburg that have stepped up to provide the vaccine, so traditional community clinics operated by the health unit aren't needed.

"You also have a couple of walk in clinics and a number of physicians" participating, she said.

The health unit has scheduled 14 of its own clinics but Lauzon said at one time it provided many more. For example, there were an additional seven last year.

The major reason for the decline is because many more private pharmacists have come on board to deliver the vaccine.

This is the second year for pharmacists providing flu shots.

As many as 25 enrolled to give shots last year and 70 are enrolled this season.

That's out of a total of 150 local pharmacists.

Only pharmacists – not their staffs – are allowed to administer flu shots.
Pharmacies will also schedule their own hours for clinics.

More details will be released next week when the province officially announces its annual inoculation program.

Lauzon said the health unit's website will be linked with the Ministry of Health's so the people can find the nearest public or private clinic, simply by typing in their postal codes.

"If our clinics don't meet their needs then they can go to the flu (shot) locator and find out … whatever postal code they use then it's going to tell them what's nearby," she said.

Pharmacists have to prequalify and the health unit inspects pharmacy fridges to ensure they meet criteria for storing vaccine.

New this year is that people can also book appointments at community clinics online.
WindsorOntarioNews.com