---
Fireworks shuttle delays (con't)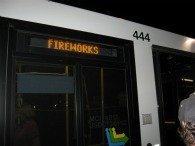 There were no problems with taking the bus downtown earlier in the evening. Plenty of buses were available at the mall. The shuttle for the third year was free and sponsored by Zehrs.
But it was the return journey that saw thousands of people wait well over an hour for return buses. One woman almost fainted and had to be taken out of the cordoned off area and attended to by paramedics.
"We need a lot more buses coming back because everybody's leaving at once," Pat said.
People in the crowd wondered if in fact there were fewer buses scheduled for the return trip.
Transit Windsor manager Penny Williams said that was indeed the case.
She said the transit company is operating under new "federal work rules" that prevent scheduling drivers from working more than 10 hours at a time.
Williams said most of the drivers had been working their day shifts and stayed on to drive the shuttle downtown in the early evening.
But the work rules prevented them from staying on the job and driving for the return trip.
That's because they can only work so many hours at a time and require a certain period of rest before working their next shift.
Williams said perhaps half the number of buses was used on the return though she was waiting for a full report.
Asked if the company could have called in other drivers she said every available driver worked Monday evening.
"We had every hand on deck last night."
The system has 165 drivers.
The overwhelming number of them would have been working the day shift.
Williams said if those drivers had to work the return shuttle they would not have been available for morning service the next day.
"We need drivers to do the school extras in the morning and afternoon, so their shifts are taken up," she said. "We can't utilize them, redirect those resources to the evening fireworks because they would have their time in."
Williams said another complication was the fact school is still in session compared to previous years when fireworks were held on the last school day of the year, although this was also true last year.
Williams said the same driver scheduling occurred last year and "we didn't have any problem" so she doesn't know why there were delays last night.
"I don't know if the attendance was up and that could be another contributing factor of how many rides we provided."
But she said the company tried to "mitigate" the problem of fewer return shuttle buses by allowing free rides on all city bus routes Monday after 6 pm.
"Maybe we need to get that message out there a little bit better," she said.
WindsorOntarioNews.com