Advertising exchange rate not on front burner (con't)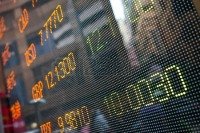 Larry Horwitz, who chairs the Down Windsor Business Improvement Association, said marketing is taking place but not always directly.
"I think we're marketing it to them but not doing massive advertising because there's no budget for it," he said.
Instead, Horwitz, said it's being done through such avenues as festival marketing like the upcoming Balloonapalooza, which takes place in August.
As well, some BIA members may be doing their own advertising, and there are efforts to generally make downtown "more attractive - and marketing it that way."
Horwitz, who happened to be driving on Detroit's Lodge freeway at time of the interview, pointed to a Caesars Windsor billboard in front of him which touted the favorable exchange rate.
"So there is a definite push for American clientele," he said.
Gordon Orr, CEO of Tourism Windsor Essex Pelee Island, said exchange rates are outside the agency's purview.
"We typically avoid marketing something that isn't in our control and exchange rates are one of those things," he said.
Orr said tourism planners don't believe that advertising the exchange rate is sufficient to attract tourists anyway.
"We are to the belief that they will not cross the border unless we give them a compelling reason to do so and then 'oh by the way your dollar goes further,' " he said.
And, Orr added, should such advertising be done, it would be hard to promote advertising incentives - "it is hard to control a fair exchange rate at all of the businesses they might visit."
Meanwhile, the area's chamber of commerce is undertaking no immediate exchange rate promotions.
Instead it's taking the longer view.
It has signed on to the Travel Rebate Incentive Program (TRIP), a proposed tax rebate to encourage tourists to shop in Canada.
Americans would be eligible for a five per cent rebate - equal to GST- on purchases made here.
The rebate applications would be available at participating duty free stores. 
Four Ontario chambers support the initiative.
The Frontier Duty Free Association has proposed a pilot project as part of the 2015 federal budget, planned for tomorrow. (UPDATE: the item wasn't included in the April 21 budget.)
According to the chamber, the annual number of U.S. travellers to Canada decreased by 23.9% between 2008 and 2013, with a "particularly alarming decline" of 14% in those crossing by car between 2008 and 2013.
The total amount spent by visitors also declined 32.7%. 
WindsorOntarioNews.com