Early Parkway construction (con't)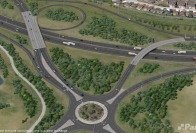 The same holds true for the "Highway 3 Roundabout," a two lane roundabout large enough to accommodate large transport trucks.
The roundabout will link to Hwy. 3, the current Hwy. 401, and the eventual Parkway on and off ramps.
Meanwhile the current Howard Ave. will terminate in a cul de sac before it reaches what is now the Howard Ave. - Hwy. 3 intersection.
The Diversion will replace the route going to and from Windsor.
Another project will see the last portion of Hwy. 401 in Essex County that is four lanes wide expanded to six lanes.
This strip runs between the Dougall Ave. exit and Hwy. 3.
As a result there will be major interruption of traffic on North Talbot Rd.
The North Talbot Rd. Bridge over Hwy. 401 will be demolished to make way for the widened highway.
"There isn't enough room under the existing structure," Philip Murray of the design team Parkway Infrastructure Contractors - part of the consortium building the $1.4 billion Parkway - said.
Parkway planners say the bridge will be demolished – and Hwy. 401 closed – for a maximum of 55 hours from 10 pm on a Friday to 5 am on a Monday on a future weekend.
Then the freeway will be closed on another weekend to put in place new bridge girders.
North Talbot Rd. itself will be closed for an estimated six months.
Perhaps "the most challenging" aspect of the entire project will be keeping traffic moving along the busy Hwy.3 - Huron Church Rd. corridor because the bulk of Parkway construction will take place in the immediate vicinity, land use planner Cindy Prince said.
Construction crews will keep open two lanes in each direction during "core travelling hours" and reductions to one lane – required for certain operations – will take place "during late night hours," according to public documents.
Besides North Talbot Rd., other temporary road closures will be Grand Marais Rd. W. and Pulford St. for new roadway construction.
But there will be 21 permanent road closures.
These include Outer Dr. in Tecumseh, Grosvenor Dr., Surrey Dr. and Cousineau Rd. in LaSalle, and Yorktown Ave., Spring Garden Rd., Chappus and Beech streets in Windsor.
"These closures will be initiated as appropriate during the Parkway construction," documents say.
"Discussions with the local municipalities are required to confirm the process to be followed to initiate each closure."
WindsorOntarioNews.com