Delray community benefits (con't)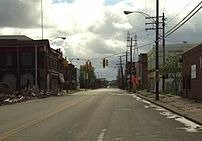 Coalition president Scott Brines said a number of issues still have to be resolved.
These deal with pollution, relocation of residents and businesses, and enhancements such as more green space.
Reports say Michigan will likely soon approve the bridge by using an Interlocal agreement with Canada without needing approval by the state legislature.
The state house has objected to the New International Trade Crossing (NITC) bridge, with Republican legislators balking at the financials that they say could leave taxpayers on the hook, despite Canada fronting $550 million of the cost.
But last fall a motion by a house committee to bring the matter to a general vote was defeated when two Democrats abstained because of lack of community benefits.
(The vote among Republican committee members was three to two in favour.)
Despite it going into their neighbourhood the Delray community supports the new bridge and has been working with the Michigan Department of Transportation (MDOT) on a benefits plan.
$2 million was awarded in federal funding to build 26 new houses where displaced residents can move "at no cost to them" says the group's web site.
But more progress is need, the group says.
"We have not seen those impacts being addressed properly," Brines told WON.com.
This includes compensation for people who have to leave their homes, and aid for businesses.
The neighbourhood would also like a commitment to employ local residents in construction on the bridge and in permanent jobs on the Customs plaza.
The group also wants more trees and parks.
Brines pointed to Windsor as a community that fought for more tunnelling and greenery for its Windsor-Essex Parkway, which will connect to the bridge.
"That's really what we're asking for, the same treatment on this side."
He also would like something done to prevent truck fumes and noise from impacting the neighbourhood.
"We're going to have basically idling trucks in your backyard," he said.
"Here's a community that's dealt with this pollution burden for so long and then now you're going to dump another plaza on top of that."
Brines is hopeful these issues will get resolved as part of a final agreement.
He said Delray, a hugely industrial area with an oil refinery, wastewater treatment plant, mammoth rail yard, three major highways and multiple industries, has also seen a population decline from at one time 25,000 to 3,000.
"Over the years it's been devastated and people are just really hanging on and they want to make sure they continue to have a community."
WindsorOntarioNews.com