First plug-in stations coming to family aquatic centre (con't)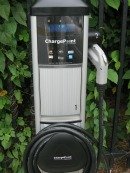 $6000 has already been spent from the aquatic centre's contingency fund construction budget to install underground electric conduits for the stations.

That budget, at $3 million, covers where officials might want to alter design or construction details, aquatic centre steering committee chair and city councillor Drew Dilkens said.

In fact it was Dilkens idea to install the stations. 

Dilkens, who sits on the city's EnWin Energy board, said EnWin already leases an all-electric Chevy Volt and electric vehicles will become more of an option for consumers in the years ahead.

"Although there may not be enough pick up in the local area at this time I thought it was worth at least making sure that we had the infrastructure there so it's cheaper to do it now when the ground's torn up than it is to rip something up and put it in after the fact," he said.

Dilkens doesn't know exactly how much the above ground stations – which look similar to gasoline pumps - will cost but estimated, depending on model, could range from $5000 to $30,000.

He's also "not sure," at least for time being, where the money will come from to pay for them.

"I suspect we will choose a station in fairly short order," he said. "The EnWin board is working on it as well."

Don Sadler, the city official overseeing the aquatics centre construction, said, "we're certainly going to be looking to EnWin for their suggestions, advice and hopefully they might pick up the tab" as part of the utility's renewable energy efforts.
 
Enwin's director of conservation Lawrence Musyj said the utility is working hand in hand with city officials.

"With the city we're going to be involved and help them because we're owned by the city and that's what we do."

Up to now the most high profile local electric vehicle charging stations are at the Windsor Crossing outlet mall in LaSalle.

Dilkens said the aquatic centre stations could be the first to be installed at several city properties, such as for city vehicle fleets.

"Yeah, I think you have to do it where it makes sense."

He said electric vehicles face a "chicken and egg" situation.

"Do you put the infrastructure in hoping that people buy the cars ... or do you wait until they buy it and say okay there's enough people who own them now, we want to support that?"

Dilkens said this is a type of industry "where I think government - the city – has to step in and say, you know what, we can choose certain locations and we can partner with perhaps Devonshire Mall or someone else, where we know there's going to be a large volume of traffic."

The councillor said if the public is uncertain about buying such vehicles because of lack of charge stations "then they're more likely to make a choice to buy a vehicle like that when they know that the infrastructure supports it."

Dilkens didn't have a price that consumers would pay to use the stations.

But Sadler said timers would be placed on them so that they would not be abused.

He also said car owners wouldn't necessarily get a full charge but could get some charge while they're inside using the aquatic centre.
WindsorOntarioNews.com