Bridge owner's slogan (con't)
The sign has an American flag and says: "Support Our Troops Whenever We Go...No Aid or Comfort to the Enemy – No Way!
According to CenTra's director of government relations Mickey Blashfield, the sign was the idea of company owner Manuel Maroun.
Blashfield said that Maroun had spotted a similar slogan on a car bumper sticker which had "a little more patriotic" wording.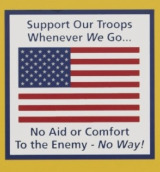 Blashfield said Maroun's thinking was, "We have several thousand truck trailers rolling up and down the road every day. Is there something that we can do in a quiet, diplomatic, passive way (to) raise the spirits and raise the awareness and level of support for those who have volunteered to make an effort to protect the freedoms that we enjoy on a daily basis."
Blashfield said the message is meant to be "apolitical."
"It doesn't matter which president, when our nation determines that our men and women go to fight for our freedom they have the support of the nation behind them."
Blashfield said Central Transport also considered how the sign would be received in Canada, where its trucks also operate.
"And the response has actually been pretty overwhelming," he said.
"We've gotten a number of calls from the Canadian side of the border that just say, 'Hey, I saw that - in a day and age of political correctness and everybody just kind of putting their head low, we appreciate the stand that your company has taken.'"
Blashfield added that "generally" he doesn't believe there have been "any real negative reactions."
He thinks that's because the wording was carefully chosen – specifying "whenever," for example, instead of "wherever" the troops go – "to get the right sentiment without being too over the top or too hollow and clichéd."
This isn't the first example of public patriotism by the company.
In the wake of 9/11 – and when border tie-ups were often a daily ritual due to increased security – bridge management placed overhead banners with American and Canadian flags proclaiming the words, "United We Stand."
Blashfield said the company also has been a sponsor of the annual Canadian Flag pull out for July 1st in The Windsor Star.
WindsorOntarioNews.com
What do you think about this sign?
Let us know about how you feel about this patriotic sign on the back of Central Transport trucks?
What Other Visitors Have Said
Click below to see contributions from other visitors to this page...

Sign Language
With regard to the 'patriotic' signs on Mr. Moroun's trucks, all I can do is quote Samuel Johnson: "Patriotism is the last refuge of a scoundrel." …