Have downtown campuses borne intended fruit? (con't)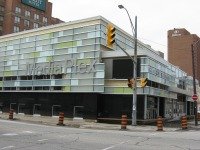 A stark example: along Chatham Street's once thriving restaurant row there are at least four closed restaurants, some literally around the corner from the University of Windsor's new School of Social Work and Centre for Professional and Executive Education, which opened one year ago. 
Nor has there been noticeable growth in overall retail stores that caters to a student demographic.
The kind of pedestrian traffic envisioned by having hundreds of students and faculty in the downtown still hasn't emerged to the degree planners had hoped, even proponents of the decentralization acknowledge.
They say there are several reasons for this.
St. Clair College was first off the mark in 2007 when it acquired the Cleary Convention centre and Chrysler Theatre and moved programs like hospitality, hotel management and tourism downtown. 
It then opened the Mediaplex – the converted Salvation Army building – in 2010, where journalism was re-located.
The college also moved programs like advertising and marketing, border services, graphic design, and paralegal services downtown.
In 2012 the TD Bank donated its University Ave. W. branch to St. Clair, which serves as a student centre.
Meanwhile the University of Windsor now has some 500 students, staff and faculty in the converted former Windsor Star building at Pitt and Ferry streets.
That number will almost double by fall 2017 when the School of Creative Arts opens in the former Armouries and at a nearby site.
While coming up short in perhaps putting lots of bodies on downtown streets the college and university say the overall moves to downtown have been positive, for related and non-related reasons.  
St. Clair spokesman John Fairley said having such physical assets like the Cleary and Chrysler have provided excellent hands-on training facilities, the likes of which few colleges can offer.
"Sometimes these kind of … physical assets of buildings become part of your product offering," he said.
University spokesman John Coleman said the downtown location creates synergies between the campus and outside groups, "where they can more effectively partner with local agencies in order to make an impact on our community."
He said social work students provide more than 100,000 hours to area health and human service organizations.
As for urban renewal, Coleman said "all indications" are that the campus is "contributing to a revitalization of the core."
For example, he said, the city recognized the new Pitt-Ferry building with a heritage award and the Downtown Windsor Business Improvement Association (DWBIA), "has been extremely positive about the impact the downtown initiative has had on its members - and will continue to have."
But Fairley admitted there's "no magic bullet" to generate the types of vibrant street life envisioned by decentralization.
He said while some students mill about outside at lunch time there have been few retailers who have reached out to students to obtain their business.
"I reckon to think that there's only been a handful of people who have really marketed to our students and staff," he said.
Larry Horwitz, DWBIA president, said the full impact of decentralization won't be known until the university's arts school and a possible new downtown law school in the Paul Martin Building, opens.
"Things have improved for downtown but not as much as it could be – stay tuned," he said.
Horwitz said the reason there isn't more student-oriented retail is often because of specific property issues.
"There are developers that are holding on to properties, there are banks that are holding on to properties, that are asking prices that aren't as realistic as they have to be for things to happen," he said.
Likewise if a potential retailer wants to lease a space, they may offer a landlord less than what the owner wants.
WindsorOntarioNews.com