Women's rights groups sitll using Caboto Club (con't)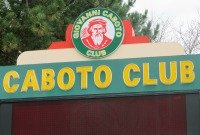 Among the organizations invited to attend were members of the New Democratic Party, which has also been a long time strong voice for gender equality.
Local unionists were also in attendance.
CUFW local chapter spokeswoman Niki Carlan said the Caboto was chosen in large part because of its sheer convenience.
She said her organization is aware of the club's men-only status (the Caboto has a women's auxiliary). 
"Yes we are," she said.
"We have been going to the Caboto Club, this was a decision made many years before I became a member," she said.
A factor in booking the hall was that the federation has a number of older members.
"Many of our members are elderly and they find it accessible, the parking is easy for them," she said.
Members of CARP, also commonly known as the Canadian Association of Retired Persons – and has a progressive stance on social issues - attended the Oct. 1 all-candidates event.
Carlan said her members were aware of the club's male-only status but "voted to continue" to use the Caboto.
"Caboto Club has been very supportive of our organization and that's the decision that has been made by the club democratically," she said.
Asked if there was any dissent, Carlan said this didn't sit well with everyone.
"There's a couple of members who feel uncomfortable about it but the majority have supported the decision to stay at the Caboto."
Carlan said the Caboto presents an ideal location, situated geographically almost at the centre of Windsor at Tecumseh Rd. E. and Parent Ave.
"It's centrally located, it's very accessible for handicapped people which many of our members are, there's free parking, and there's a lot of other reasons to use it," she said.
Joel Bentley, president of the NDP Windsor West federal party association, said he "wasn't aware" of the club's male only rule.
Newly elected Windsor West MPP Lisa Gretzky held her election night victory party last spring at the Caboto.
Bentley said the issue also hadn't been raised by party members.
"No one raised it but no one knew I think would probably be fair to say," he said.
Should someone bring it to the association;s attention Bentley said it might be something "we'd turn our mind to.
"I don't know what exactly our position would be, we'd have to talk it over."
The Windsor-Essex Regional Chamber of Commerce has also booked the Caboto for its all-candidates mayoral debate tomorrow.
President and CEO Matt Marchand said the organization rotates its activities among various banquet halls.
"We use Ciociaro, Caboto, (Fogolar) Furlan and other clubs, and they are members of the chamber," he said.
Asked if his members had expressed any concerns, Marchand said, "I haven't heard any."
According to the Ontario Human Rights Commission there is nothing inherently discriminatory about the Caboto's men's only status since it is a private club but complaints are dealt with on a case by case basis.
But eyebrows were raised about such a high profile organization – used by civil, political and business organizations across the spectrum - still having such a policy.
Former Essex councillor Denisa Blackburn, who is of Italian heritage, wanted to join the Caboto as a regular member this year but was denied.
All other local Italian clubs have open memberships for men and women.
WindsorOntarioNews.com