---
New Windsor bus benches will resist graffiti, vagrants (con't)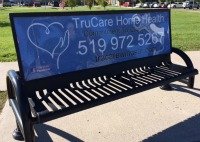 The city has contracted with Brantford-based Street Scene Media for the shelters, of which there are some 139, and with Ontario and Florida-based Creative Outdoor Advertising.
It's not costing city hall a dime but the city will share in the profits from advertising, says city official Tony Ruffolo, the city's right of way supervisor, who had been in charge of the file before retiring this month.
"They are providing advertising on those structures and they are providing the city with a share of the revenue from that advertising," he said.
Ruffolo said the street sites – particularly the shelters – will be converted over a five-year period – and "they're in the process of doing that now," he said.
Benches began going in in late 2015.
There are two types of benches – wire mesh and solid dark coloured benches.
"I think the intent (of the mesh) is water's not going to sit on it so its easier for people to use after a rain storm," he said.
Ruffolo didn't have an immediate estimate on how much money the city would derive from bench advertising.
The benches will replace the concrete ones that have been a fixture for decades.
"Due to its materials and all-weather construction, it is the strongest, most durable Thermo Plastic-coated bench on the market today," Creative Outdoor says.
It is made of heavy steel and aluminum which is covered in a Thermo-Plastic PVC coating.
The combination of materials makes the bench well suited for "extreme weather conditions" such as extreme heat and cold.
It won't degrade due to snow, ice or road salt.
Another feature of the benches is that they are graffiti proof, graffiti being an urban blight in recent years staining public furniture like benches, shelters and mail boxes.
"The Thermo-Plastic PVC coating on the Lexington also resists graffiti and UV exposure which will prevent any blemishes, fading or discoloration," the company says.
As well, the construction includes smooth surfaces and rounded edges to enhance public safety.
And a warning to street people – they can't sleep on them.
The seats are designed with arm rests to "add functionality to the seating and discourage vagrancy," says the company.
WindsorOntarioNews.com