---
---
Border staff complement down about 40, says union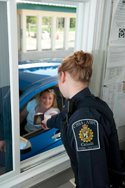 He double-checked with the Windsor union president and said the 40 figure is accurate and covers staffing at both the bridge and tunnel.
WON.com reported July 31 of incidents where trucks are migrating from their segregated right hand lane into the left hand lane for motorists, causing delays for motorists - as long as 10 - 20 minutes - when there is otherwise very little traffic on the bridge.
The delays, for example, have occurred weekdays late in the evening and in the morning.
A unnamed bridge staffer even indicated that Canada Customs was redirecting FAST (Fast and Secure Trade) expedited trucks to get them through the border more quickly.
But the underlying problem appears to be the limited number of Customs booths open.
Stan Korosec, the bridge's Director of Security and Canadian Governmental Relations, has said there has never been a time when all 13 truck Customs booths have been open, and the bridge company has been lobbying Canada Border Services Agency (CBSA) to resolve the staffing issue.
Fortin says the staffing is down not just in Windsor but at all Canadian border crossings and affects Customs officers, clerical staff, enforcement personnel and inland immigration.
"But overall I can tell you Canada-wide approximately over 300 front line officers are being cut," he said.
Meanwhile, officers are "doing tonnes of overtime right now to maintain a certain level of service - and I mean a certain level - not the way it should be."
Fortin agreed with Korosec about the seriously diminished number of staffed booths.
"I agree with that gentleman there that there's not enough booths open," he said.
Fortin pointed to cuts made by the Conservative government a few years back affecting 10 per cent of staff.
"So right now we're feeling the effect, like two, three years after, that's exactly what's taking place," he said.
He said the union workforce was at 11,000 - "you do the math" - resulting in about 1100 positions being chopped.
Windsor-area Conservative MP Jeff Watson said his office has been "hearing reports" and "getting some calls" about "two sort of global trends" at the border.
One is that "passenger volumes are higher than normal" and that sick leave call-ins have been "higher than normal.
"It hasn't reached sort of a fever pitch but it is affecting staff available at the crossing."
But Watson said he's "confident that CBSA is well-funded."
Watson was unsure if the sick leave call-in might be related to a protest action by the union during the current federal election campaign targeting the government.
"Unions have been very, shall we say, active, largely in their thoughts about the current election cycle and our government more specifically," he said. 
"But I don't know whether that's a union campaign or it just happens to be that there are some legitimate issues related to people needing sick leave."
Watson asked whether this was the union specifically targeting the sick leave issue.
"It raises questions for me about, you know, is the higher sick leave related to the fact that the sick leave plan is changing from our government and this is a response to that."
But Fortin said there is no direct job action taking place.
"I know when there are pressure tactics that are taking place and I can assure you there is zero - zero - pressure tactics, on our behalf," he said.
He said the union is involved in a general campaign targeting the government during the election.
"But, no, there's no protests, I can guarantee you this, at this time."
WindsorOntarioNews.com