Parkway black snake fencing (con't)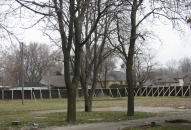 Some earlier fencing was installed in the fall.
Foster said that fencing was put in place around an area where a pipeline was being relocated.
These more recent and numerous additional areas border both former business and residential districts.
They've been constructed looking like they've been installed haphazardly or at odd angles.
But they're strategically designed to keep two species of snakes out of the Windsor-Essex Parkway's construction corridor over the next several years.
One species is the Eastern Fox Snake.
The geotextile is perfect material "to exclude them because they are a snake that can climb," Foster said.
"So the height of it (about six feet) and the nature of the materials used are to prevent that from happening."
Geotexile has a smooth surface and is attached to a wooden frame.
The snakes "don't have anything they can latch on to, to get over" Foster said.
The other species is the Butler's Garter Snake.
Foster said this species is smaller, doesn't climb, and doesn't move around as much as the Eastern Fox Snake.
The fence is actually embedded in the ground in a trench six inches so snakes can't crawl underneath.
Foster did not have a cost figure on the extensive fencing saying the expense has been "rolled into" the overall contract with the consortium building the parkway, whose crews are also installing the fence.
Foster said it's the greatest use of such fencing at a construction project, noting the Endangered Species Act is fairly new legislation.
The fence isn't being used to prevent other animals from accessing the construction site.
Major parkway construction is expected to be underway later this year.
Foster said the public – including naturalists and environmentalists – were consulted in the lead up to early DRIC planning and there will be future public consultation.
He said the ministry would be "going out to the public with further information as we move along here.....so we are going to be engaging different groups like environmental groups."
Some snakes were also physically removed during the building demolition process over the past year.
But the fence is still needed.
Foster said the snakes are still "quite extensive out there and so the fencing really is to address all the areas where they might be found and to exclude them from the construction sites."
WindsorOntarioNews.com