Another section of County Rd 50 bike trail falling into place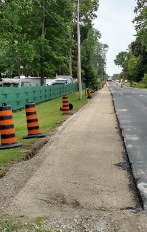 For years it has been a popular tourist drive, a route that is close to the Lake Erie shore and on which are several wineries as well as fruit and vegetable stands, shops, restaurants, and historical and recreation sites.
When finished the highway is to have both north and south shoulders paved for bicycle lanes.
Up to this year about five kilometres had been paved, according to county engineer Tom Bateman.
"So we're kind of working towards combining, connecting all the way through from Colchester eventually right into Kingsville," a distance of more than 15 km.
He said about eight km. should be finished this year.
Bateman said paving will take place when funds are released.
"The commitments are there from both the towns and ourselves (Essex County)," he said.
"The intent and the commitment when we start these multiple stage projects, we do look for the commitment for the entire project so that we don't end up with half a project completed."
Eventually all of County Rd. 50 will "be addressed," he said.
But for the time being the focus is on the segment between Colchester and Kingsville.
While there is cycling tourism now – including planned tours linking wineries – "certainly having a paved shoulder specifically for cyclists makes it a much more viable route," Steve Mitchell, owner of Sprucewood Shores Estate Winery and president of the Essex Pelee Island Coast Wineries (EPIC), which represents regional wineries, said. 
"Without a paved section just for cyclists then there's always the risks inherent in sharing a road."
Mitchell's own winery is substantially west of Colchester and cycling visits are a "small portion" of his business, he said.
Megan Basillie, co-owner of Farm Dog Cycles, which rents bicycles and hosts winery tours along the route, said the paved section hasn't made it to her shop yet, but "we're so happy to see them coming closer and closer down towards us and really connecting a lot of the businesses that are the draw for a lot of the cycling tourism."
She has been watching the trail, incrementally, get built.
"What we've noticed they've done in years past is they built the shoulder up, they make adjustments to the road bed so they put a lot of gravel fill in," she said. 
"And then they put one layer of asphalt … and it seems like they kind of let that sit for a week or two and then come up and top the asphalt up so that it's level with the current road."
Later this month the eighth annual Explore the Shore event takes place along the route.
WindsorOntarioNews.com