---
"Context sensitive" bikeways (con't)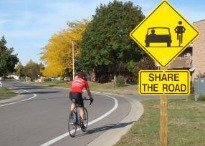 It would eventually tie in to Amhersburg's local trail system and another county bike trail along heritage route 50, where several historic sites and wineries are located.
The trail on the heavily travelled Windsor – Amherstburg route would link and enhance what already exists between the two communities, including sidewalks that end abruptly in the River Canard area.
"It takes what's already there and tries to build upon that to make sure we have a seamless connection," she said.
"We would repair and replace when necessary or we would just connect."
"Context sensitive" means that the trail would adapt to current conditions along the route.
For example, it would be a painted trail only with "share the road" signage in the urban areas, then a widened trail where sidewalks exist – useable by both cyclists and pedestrians – and then entirely new asphalt surfaces separated from the highway by curbs.
The trail could vary from three to four metres in width.
Another context sensitive route would be between Kingsville and Leamington along County Rd. 20, a corridor that is rural but has a high population density.
The county is planning 712 kilometres of trails altogether to link major communities.
The County Wide Active Transportation Study (CWATS) calls for the network to be constructed over 20 years in three phases.
Mustac is hopeful municipalities may begin "putting funding aside" so that work can begin on the system as soon as possible.
WindsorOntarioNews.com