"Cost of Truth" to expose truth behind death investigation (con't)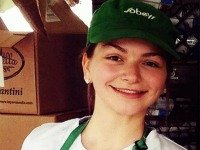 "This Cost of Truth is going to be actually letting the public know the truth of what really happened that day," Christian Bernauer said.
He's blaming the authorities for a cover up.
"Our intentions were all along to find the truth and if we can get the truth out I mean we would have been fine with that. But instead of getting the truth they used my daughter as a scapegoat and to cover up what really happened. And that's unacceptable to our family and friends and we are going to let the community know and I'm sure they're not going to be anywhere as happy as they think."
Bernauer died in a single vehicle rollover while driving home Sept. 6 2014 after staffing at the Sobeys booth at Amherstburg's Shores of Erie International Wine Festival.
Bernauer, who was not wearing a seatbelt, was partially ejected.
A police investigation found texting while driving a factor in the crash and that toxicology results indicated Bernauer had alcohol and THC, a chemical in marijuana, inside her body.
The Bernauer family's lawyers dispute that THC was a factor, saying the coroner found no such substance and Amherstburg police erred in their release. 
They also say Emily "was provided with" alcohol while staffing the Sobeys booth.
"I think the community deserves to know the truth and we need to make sure that this senseless death could have been avoided (and) make sure it doesn't happen again," Christian said of the upcoming film.
The enormously popular Shores of Erie wine festival, ironically, was celebrating its 10th anniversary the weekend of Emily's death. Last year's festival was cancelled.
In March 2015 charges were brought against the festival's individual board members, all volunteers, and subsequently dropped months later. But a new liquor act charge was laid against the festival corporation.
The charges were for giving liquor to a person who appears under the legal age and failing to inspect identification of such a person. The board members had no insurance or liability protection and faced being fined as much as $100,000 and up to a year in jail.
Asked what topics the film will touch on, Christian said "the way the whole situation was handled, the way media relations were sent out, everything that happened."
Does the film target the Amherstburg police? 
"Police is part of it, absolutely," he said.
"They're the ones who started the investigation. The big question there – right? – I want to know why the police was doing the investigation when they're the ones they were part of the whole problem in the first place, right? They should have had outside resources that came in and do this investigation especially when they found out it was alcohol-related."
Christian said his family was "very disappointed" when charges against individual festival board members were dropped. 
"When we found out that the individual charges were dropped then we really got concerned," he said.
"Because if the individual charges would have stayed they would have had to defend themselves and by defending themselves the truth would have came out."
He continued:
"And the reason I believe they didn't do that is because there was a lot of other things (that they) didn't want other people to know. They have enough - more than enough - evidence to have been individually charged. And we're going to make sure we show that."
Now, Christian said, with only the corporation named, it "doesn't have to answer to nobody right?... it's just like basically saying, 'Okay, I'm going to keep playing Russian Roulette with the community and the minute I get caught I'll pay my fee."
WindsorOntarioNews.com