Windsor to hosts two dozen Andy Warhol works (con't)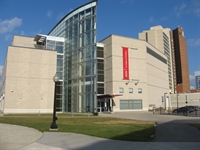 The exhibit is part of an ongoing two-year series of exhibitions featuring artists' reflections on food – how it's depicted, consumed and its role in different societies, particularly Western consumer culture.

As well, many of the two-dozen works are not ones that the world has most associated with Warhol, so the exhibit will provide a fresh take on the artist, who died in the late 1980s.

While not obtaining prints of Warhol's iconic Campbell Soup cans, the AGW did score a coup by obtaining a stencil for that work.

"Unfortunately, the waiting list for the soup cans is two to three years," AGW curator Jaclyn Meloche said.

Instead, most of the images will be from Warhol's later years in the 1970s and 80s.

These are prints of fruit, fish and soda labels.

There's one of the infamous New Coke when Coca-Cola decided to change its formula, to mass consumer rejection.

There's also depictions of animals such as a cow and pig.

And there will be an experimental Warhol film, called Eat, which Warhol did with fellow artist Robert Indiana showing the banality of eating.

And there's a photograph of Warhol's famous Manhattan studio, The Factory, during an exhibition of his Campbell Soup cans.

Meloche says Warhol used repetition – for example, he did multiple images of Campbell Soup, Marilyn Monroe and Jackie Kennedy – as a reflection of the "commodification" of mass culture.

"Andy was very critical of commodification and how American capitalism literally capitalized on that," she said.

Other exhibit pieces depict Cornflake boxes, fish, steak, hamburgers.

"He was really speaking to his generation and its relationship with food," she said.

The Warhol exhibit runs parallel to other exhibitions on food which will all be located on the gallery's second floor.

Windsor-based and internationally-acclaimed artist Ian Baxter& shows how a simple food like bread can be playfully made to resemble toys.

And, in The Contemporary Sandwich Shop, eight artists look at how food is prepared, preserved, eaten and packaged, often critiquing food production and the business of food.

Finally, the museum draws from its own collection to show how artists over the centuries depicted food in and of itself – in still life paintings, for example - and its symbolic role as a staple in human societies.

WindsorOntarioNews.com