More parking, more marketing for Windsor International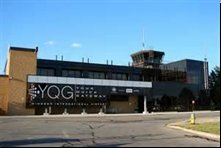 The airport can expand the lot because it demolished a former one story abandoned heating plant, an "eyesore", said airport CEO Carolyn Brown.
"Then because there's nothing else pertinent to that area the best use for that vacant land was to expand the parking lot," she said.
Construction crews should be on site this week with completion in mid-June.
"Because West Jet will start its season at the front end of June and that's when our summer season starts," she said.
The long-term parking lot has been increasingly sought by more travellers, especially Americans, who have discovered the economy of flying out of Windsor to even international destinations.
"The airport attracts a fair amount of traffic from the US, those customers are taking advantage of the low Canadian fares to go to Canadian destinations and to Europe," Brown said.
As well, the parking is cheap.
It's only $3 an hour, $10 maximum per day and $50 max per week.
Brown said it's about 50-50 between American and Canadians parking there.
"At the peak of the travel season that 50% number may increase slightly in favour of the US folks," she said.
"Because we've done (staff) walk throughs in the parking lot, we have people from as far away as Ohio coming up here to park and then take off to Europe." 
There are no changes planned for the short-term lot in front of the terminal, which charges $3 an hour.
More Americans are discovering Windsor when booking flights.
"How we market the airport is really through the airlines, we have a joint marketing program with them, and we provide them with the marketing dollars and they do the marketing in their target locations," Brown said.
The parking lot expansion won't require more land just a rejigging of the present site.
This will be obtained by "taking out some of the dead zones and the excess turning radius that we have in certain areas," Brown said.
Meanwhile the airport will step up American marketing.
"One of our goals for this year is to do more geo-targeting in the States," Brown said.
"Because we know that's where our customers are coming from and we want more of those." 
Employing a consultant, geo-targeting uses specific area codes to determine where passengers are coming from and direct advertising to those places.
"Our goal is to try and switch their usage patterns to using YQG (the airport's code, which it uses for marketing purposes) because … through the airlines that are based here we can offer them a cheaper and more convenient alternative," said Brown.
WindsorOntarioNews.com