---
Free Wi-Fi coming to Windsor airport (con't)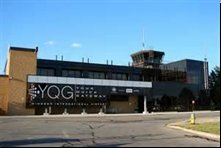 Mayor Eddie Francis, who's also the airport's acting CEO after former administrator Federica Nazzani stepped down late last year, said he's the first one to complain about the lack of free connectivity.

"Free Wi-Fi is very important especially when you're in an airport and waiting for flights - right? - especially in today's day and age," he said.

Passengers transferring on to other airports, like Toronto's Pearson, can easily connect to free Wi-Fi within airport terminals, but that service has still eluded Windsor.

Francis said the change will happen as the airport's electronic infrastructure is upgraded sand linked to the city's Internet system.

This will provide improved service not just for passengers but for airport staff and other facilities on the south Windsor air campus.

"We've now upgraded and shifted the airport's IT to the city," he said.

"One of the first things I did" after becoming acting CEO was to look at the airport's IT system and decide to shift it to the "more robust" and "more affordable" city IT.

The cost remains about the same on a charge back basis but now Wi-Fi can be provided for free.

The mayor also chairs the board of YQG (Your Quick Getaway Inc.) which is the airport's marketing brand as well as its operating entity.

"We have to make (the airport) as user friendly as possible," he said.

"Being user friendly or hassle free means that you always have to look for ways to improve the passenger as well as the user groups' experience of the facility," he said.
WindsorOntarioNews.com