Often cheaper to fly overseas from Windsor than from Detroit (con't)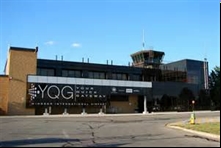 To fly from and to Detroit on the same dates started at $1103.
Just Air Ticket charged $1168, Orbitz $1213, Just Fly $1103, WebJet.com $1128, Trip Advisor $1180, and Smart Fares $1103.
Likewise to fly from Windsor to London between June 11 and June 24 saw prices starting at $900, a fare offered by Smart Fares.
After that the prices increased, with FlightHub and Hipmunk offering $901, Cheap Tickets $987, Orbitz $992, and Priceline $992. 
The fares from Detroit, again, were considerably more expensive.
They started at $960 on Just Air Ticket bur ironically that was for a departure from Windsor.
After that the fares began at $1139 on CheapOAir.
CheapFareGuru and AirTkt both had return flights at $1270, Travelocity offered $1357, Expedia $1389 and Priceline $1559.
Again all the fares - whether flying from Windsor or Detroit - were priced in US dollars.
It's uncertain why the fares should be so much cheaper from Canada, and obviously flies in the face of conventional wisdom that it's cheaper to fly from an American airport if the land distance to get to the airport from Canada isn't terribly far, very much the case for Windsor.
Ambarish Chandra, who studies the airline industry at the University of Toronto, offered an explanation.
He called it the "smaller-town effect.
"It's often observed in the airline industry that it is cheaper to fly a longer itinerary from a smaller city that involves a connection, than a shorter non-stop itinerary from a bigger city."
He said "there's complicated reasons for this" related to airline inventory and the airlines' estimates of how willing "passengers in smaller towns are willing to pay versus those who live in big cities."
Chandra said it would be interesting to compare direct Toronto to Europe prices.
But even here those prices were cheaper and proportionally lower than flying directly from Detroit overseas.
For example, Toronto to London, on the same dates, priced variously at $715, $803 and $829.
Carolyn Brown, CEO of YQG Your Quick Getaway, the brand name for Windsor's airport, acknowledged the discrepancy in pricing.
"The prices of flights are set by the airlines, and although we are sometimes consulted, we don't have control over the actual fares," she said.
"We have noticed that Air Canada's fares out of Windsor for European destinations have been very competitive in recent months, and for many people it will no longer make economic sense to fly out of Toronto or DTW in Detroit."
Brown didn't reply to a follow up question about whether the airport would increase advertising in Detroit to attract U.S. customers, especially at the current exchange rate.
WindsorOntarioNews.com