Transit fleet now 98 per cent handicapped accessible (con't)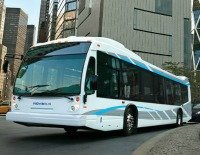 Transit Windsor is retiring eight of the older models, replacing then with eight new low-floor Nova buses (pictured), named for the Quebec-based manufacturer.
Most of the retired MCI and GMC-manufactured buses have well over one million kilometres of use on them and were acquired between 1986 and 1989.
The additional eight buses will mean that 98 per cent of the 112 buses in TW's fleet will be accessible, up from 91 per cent.
"The retirement of eight buses means 110 out of 112 buses are now low-floor buses that have ramps that can be lowered to make it easier for customers with mobility issues to board the bus," a committee report says.
"The fully accessible fleet means that passengers in wheelchairs, as well as elderly transit riders and parents with strollers etc. will easily be able to board..."
The company's fleet is also broken down by the type of propulsion system with the overwhelming majority being diesel.
These are:
30-ft. diesel low floor – two buses; 40-ft. hybrid low floor - 29; 40-ft. diesel high floor - two; 40-ft. diesel low floor - 79; total 112.
Transit general manager Pat Delmore said the acquisition of the low floor buses isn't so much policy as custom.
"I am not sure you can call it a transit policy, but once manufacturers started making low floor buses, they discontinued making the high floors, Delmore said.
"When the AODA came into place, it required that public transit new purchases be wheelchair accessible but in reality, that is all that was being offered."
Are there any issues or complaints about the low floors, such as awkward seating over wheel wells?
"I would say there are few issues - in fact it has been positive for people with disabilities, seniors that have no more steps and even parents with strollers," Delmore said, adding community feedback has been "very positive."
Transit Windsor purchases from two major Canadian suppliers: Nova and Winnipeg's New Flyer Industries.
The eight most recently purchased buses cost about $470-000 per bus.
Another feature of low floors is that they come equipped with bike racks "which have become increasingly popular," Delmore said.
WindsorOntarioNews