---
---
Is upstart Dollar Tree Canada challenging Dollarama? (con't)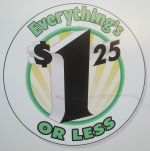 Montreal-based Dollarama, on the other hand, which has been in business much longer and now has more than 1000 outlets across Canada – and opening as many as 70 more this year – has changed its pricing strategy since 2009.
Goods used to be priced at just $1.
Now, you can find items two or three times that amount.
Lyla Radmanovich, a Dollarama spokeswoman, said "customers have responded well" to the price change. 
"It has allowed us to offer a much broader range of products than if we had remained at a single price point," she said.
That, she added, is reflected in the company's sales results.
Dollarama sales in 2015 increased 13.7 per cent to $2.65 billion compared to the previous year.
Dollar Tree, on the other hand, entered the Canadian market in 2010 and now has more than 200 stores.
"So they have grown, but not quite at breakneck speed for a dollar store business," said Toronto retail analyst Ed Strapagiel.
While still a relatively smaller competitor Dollarama did sit up and take notice when Dollar Tree entered the country.
"Dollarama started expanding more aggressively to protect its territory," Strapagiel said.
 "Dollar Tree currently operates 225 stores in Canada, and plans to continue our growth by opening more new stores," Randy Guiler, company VP of investment relations said.
But, said Strapagiel, "It'll be a long time before Dollar Tree catches up, if ever."  
Meanwhile, Radmanovich said, Dollarama's "growth-oriented" model is designed to reach new customers through "conveniently located stores."
Dollar Tree's Guiler did not provide financial results for his company but said the firm prides itself on providing customers "tremendous value" at $1.25 pricing.
As well, he said, it has created stores that are "bright and well lit…clean, well-organized."
WindsorOntarioNews.com