Canada Post says privacy not an issue in demo targeting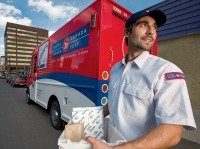 For example, a carrier has as many as 700 "points of call" and the flyers would be delivered to all those addresses, even if the demographics were different at one end of the route from the other.
As Canada Post spokesman Mike Badour said, "They might get the wrong mix of customers." 
On the other hand, an advertiser could just target individual customers, having acquired their addresses at points of sale or through loyalty programs.
This, however, may have been too narrow in scope because it wouldn't attract more customers with similar backgrounds.
This method, especially when going to the expense of creating marketing programs and printing brochures, "was not technically maybe as strong a return on investment as they wanted," Badour said.
Now Canada Post offers advertisers something in between: Postal Code Targeting.
It will allow advertisers to target addresses related directly to individual postal codes.
Each postal code, at least in urban areas, consists of approximately 17 addresses.
Some suburban and rural postal codes have more.
"It's basically a street level type of marketing," Badour said.
Why certain postal codes and not others?
It depends on the customer profile.
If a business - say a furniture or sporting goods store - knows the type of customer it wants, it can ask Canada Post to come up with demographic profiles for the people living in those neighborhoods.
Or an advertiser might want to send fliers to people in a neighborhood where the average income is $100,000 and family-oriented.
Canada Post uses government census and "proprietary" information to identify potential customers.
"So we can run an analysis and find them the best postal codes that have the highest propensity to that ask," Badour said.
Badour said that, for those receiving the mail, there are no privacy concerns because it's not exact addresses targeted, only general postal codes, which include, say, a few city blocks.
So, while the new method helps marketers drill down to achieve best possible results, the flyers – which some people call junk mail – are still "non-personalized."
WindsorOntarioNews.com
Photo: Canada Post