---
---
Just one chance to answer to claim cash, car prizes (con't)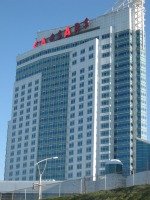 "It's required by law," she said.
Of course winners of jackpots from slot machines or wins at gaming tables aren't required to answer such questions.
It's only for winners of major draws for items like cars and big cash prizes, such as for the contest currently underway where draws will be made Dec. 27.
These draws will see three $10,000 prizes, and three SUVs, drawn each hour that day between 4 and 9 pm.
Detroit Free Press gaming columnist Mark Pilarski was bemused by the Canadian rule, entitling his column, "Brush up on math in Canada," and adding that he was, "unaware of" it.
His comment was in response to a reader who said, for "competence" reasons, a winner in Canada must answer a skill testing question.
"It's a simple math question that has to be figured out without the assistance of pen, paper or device. If you fail, the casino will hold the money until you come back and try again or appoint a custodian."
But that is incorrect.
The idea that a winner generally in Canada, not just at Caesars Windsor, has more than one chance to get the answer correct to claim such a prize is also stated in a Wikipedia entry.
"Enforcement of these rules is not very stringent, especially for small prizes; the player may not be required to answer the STQ to claim a prize. Anecdotally, getting the answer wrong is also often not an obstacle to claiming a prize."
Again wrong.
The math question might be something like: (2 x 4) + (10 x 3); answer 38.
Baluyot said the contestant just gets one chance.
"If they answer the question incorrectly, yes (they forfeit the vehicle) – those are the rules," she said.
And the Caesars website is more than clear.
"All answers to skill-testing questions are final. The selected entrant must comply with all Contest Rules before being declared a winner. Should a selected entrant incorrectly answer the skill-testing question, or otherwise fail to comply with all the Contest Rules, the selected entrant will be disqualified from Contest participation and the prize will be forfeited and will not be drawn for again."
Did anyone ever fail to answer the STQ correctly?
Baluyot didn't think so.
"I can't specifically say there was ever a time that that did actually happen." 
WindsorOntarioNews.com