Parkway construction takes toll on outlet mall (con't)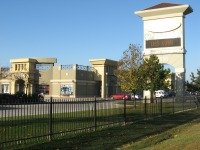 Gosnell said vacancies are at 10 per cent and business goes "up and down like crazy."
The problem is access, or perceived lack thereof.
Gosnell said the configuration of roads around the construction site gives the appearance the mall might be inaccessible.
"Traffic has been staying away because they're confused," she said.
"When they're coming down Number 3 Highway or Huron Church they don't see anything," she said.
"So they go under the underpass and all of a sudden we're here on the left hand side and some of them go right past us, right?
"They didn't see the stoplights and they're on the right side and they should be on the left side."
She said the construction has "hurt us - there's no doubt about it."
She looks forward to the end of construction because discount or outlet malls like hers are increasingly becoming more popular with consumers.
"The trends within retail are discounting and outlets and so forth and I do think that price point-wise we're better for a lot of young families because we have a selection and we have the price points that they need for their budget especially in Windsor."
WindsorOntarioNews.com