In a first, city  & county BIAs marketing to Americans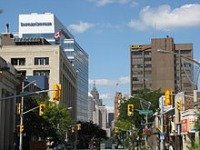 "It's the first time they've ever collaborated on a project," Downtown Windsor BIA director Debi Croucher said.
"It's pretty awesome."
The campaign is expected to launch end of June and go through to the end of October.
And front and centre will be showcasing just what a deal it is for Americans to spend their money here, since the US dollar buys about one-and-a-quarter Canadian loonies.
The theme is "More" as in "More Windsor" showing there is "more to see, more to do, more to play, your dollar goes further," she said.
Even the Downtown BIA has never advertised in the US though our tourism agency – representing the city and county – has.
"And so it's a cross border marketing initiative looking at driving US traffic into small business," Croucher said.
Windsor's Imaginative Group advertising has been hired to undertake the campaign.
The tourist agency and economic development corporation are chipping in $5000 each towards the effort.
Participating BIAs include the Downtown Windsor ($10,000), Erie Street ($7500), Pillette Village ($2500), Walkerville ($2500), Wyandotte ($20,000) and Olde Riverside ($5000).
Ottawa, Sandwich Towne and Ford City are contributing no money.
In the county, Belle River BIA is contributing $2500, Essex BIA $5000 and Harrow Chamber $2500. 
Leamington BIA and the Town of Leamington are expected to contribute $2500 each.
With the tourism agency and development corporation's contributions it all comes to $72,500.
"Windsor BIAs that are not contributing to the campaign have indicated that they do not have a fully-developed or 'market ready' product to showcase during the campaign," a report to city council says.
"Their non-involvement is not due to a lack of funding or support for the campaign."
Croucher said council is being asked to front the funds on behalf of the BIAs – which have agreed to it - which are institutions of the city and raise their own levies from member businesses.
"The money is there," Croucher said.
"We're just asking council to – as opposed to us having to collect it from the various BIAs – if they would front it and then take that money from their respective levies."
WindsorOntarioNews.com