Loblaw-bannered stores only ones locally for online shopping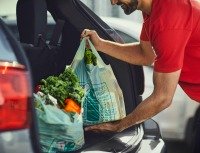 These are Zehrs, Real Canadian Superstore and Wholesale Club.
In particular, stores that participate in "Click and Connect" are Zehrs Manning Road, Zehrs Malden Road, Real Canadian Superstore Walker Road, and Real Canadian Superstore Talbot Street East in Leamington.
"We've noticed two interesting trends that speak to the great value this service provides," says Loblaw public relations.
"Our busy customers do multiple shops during the week for smaller baskets, mostly with fresh produce, and our customers with families are doing larger shops so they can spend more time with their loved ones."
Other major chains like Metro and Sobeys still only have pilots up and running and they, interestingly enough, are only in Quebec. 
(Metro's headquarters is Quebec but Sobeys is in the Maritimes.)
While the Loblaw service was first rolled out in Toronto in 2014 Sobeys began its pilot in February of 2015, and only for the company's IGA and Thrifty Foods banners.
Shoppers can order more than 30,000 products including produce and goods in weekly flyers, even adding personal preference like wanting a ripe avocado.
The order is then stored, including in coolers and freezers for perishables, until pick-up or delivery.
The company has found that 95 per cent of orders are delivered, and the service is mostly used by seniors, people with mobility issues, and some millennials pressed for time.
"There are lots of learnings we can take from IGA's model and we are exploring this functionality for our other banners but don't have any specific plans to announce at this point," spokeswoman Shauna Selig said.
Meanwhile, metro last fall began pilots in a few stores in and around the island of Montreal.
"Based on the results of Phase I, Metro will decide on the best way to deploy this initiative elsewhere in Quebec and in Ontario," the company said in a release.
Walmart has online ordering but it's not available in the Windsor area.
WindsorOntarioNews.com
Photo: Loblaw