---
Unique Essex County grapes (con't)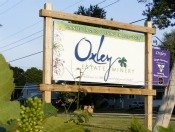 Hans Peter Pfeifer, originally from Germany and a trained viticulturalist, has been behind the research and is a partner at Oxley Estate Winery.
He said these grapes have been rigorously tested over the years after the seedlings came to Canada to "let nature throw" whatever it's got at them.
Through "Darwinian" selection, the strongest survived, and good wine has now been made from them, he said.
In fact Pfeifer has won Ontario innovation awards for his research.
The beauty of the new varietals is that they have been adapted to southern Ontario's unique climate.
This means they are hardier than traditional grapes.
For example, they can withstand severe weather conditions and disease.
They all produce red wines.
At Viewpointe Estate Winery they are sold under the Colchester Cuvee label.
Oxley co-owner Ann Neydon Wilson says she's "delighted" with the home grown grapes.
"Peter has been committed to growing sustainable grapes which are something that the European wine growers have been interested in far longer than the Canadian wine growers," she said.
They can also provide a more solid business foundation for a winery.
"They sustain a business, the business has an income year after year after year that it can rely on, we don't have to replant," she said.
Developing exact names for the grapes is still in the works and must be approved by regulatory officials, a complex process.
The Essex County wine industry, known as the viticultural region of Lake Erie North Shore, is the first in Ontario to develop such grapes.
Other regions "haven't done anything like this," Pfeiffer said.
"We call them local grapes."
He said similar grapes in Germany have been so tolerant that pesticide spraying has been reduced significantly and in some vineyards eliminated.
"We have a lot of growing data and we can say now pretty safely we can reduce under our conditions in Ontario the pesticide inputs by 50 per cent."
WindsorOntarioNews.com