Consumers, experts agree - canned beer winning out over bottled beer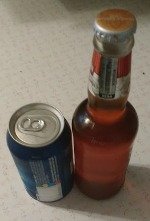 "In the reporting year 2009/10 (12 months ending April 30 2010), packaged beer sales of common product were split 71% bottles and 29% cans."
It's the same story at Ontario's government run liquor agency.
"Sales of bottled beer are declining, while sales of canned beer are increasing by eight per cent," said LCBO spokeswoman Christine Bujold.
"The largest segment of growth in the beer category is in the single can format, with over 40 per cent of total beer sales coming from the single can format."
Bujold suggested a major reason for the trend is the growth of craft beer sales.
"The enormous success of Ontario craft beer, locally brewed, small batch beer has steadily gained popularity and market share, and many of these beers are now available in cans."
Bujold said the single can format also "lends itself to customers trying new things and styles of beer they may not have purchased before."
Beer experts are at one concluding the canned beer is better than its bottled counterpart.
Ben Johnson, author of the London-based Ben's Beer Blog and freelance writer, said "cans are actually better for holding beer."
He said beer's worst enemies are "light and air."
Sunlight is what gives beer a "skunky taste and leaked air causes beer to oxidize," he said.
"A can, with a much better seal than a traditional 'crown cap' bottle, and with aluminum walls, is much better suited to keeping your beer fresh longer."
Greg Clow, publisher of Canadian Beer News, said cans don't keep beer colder than bottles.
But for freshness cans rule.
"Even a really well sealed crown cap will let a little bit of air into a bottle, so over time, the beer will get oxidized," he said.
"And even dark brown bottles let in a bit of light, which can also damage beer."
Clow said some drinkers still "hold bias" against cans, owing to detecting a "tinny" flavour.
But he said that's "no longer the case with current canning technology" though older drinkers may still associate cans with inferior product.
Stephen Beaumont, author of 10 books on beer including The Beer & Food Companion, said cans are superior because they don't allow light in.
Light interacts with volatile hop compounds, "most common in clear or green glass bottles," he said.
"Any other difference is dependent upon the equipment being used to fill the packages, with differing carbonation levels or amounts of dissolved oxygen sometimes appearing as a result."
London-based Johnson said there's a practical advantage to cans – "it's much safer to cram cans in your pockets when you're stumbling down to the beach or sneaking a local beer into a Spitfires game."
WindsorOntarioNews.com