---
---
Fall 2014 Essex County grape harvest a write-off (con't)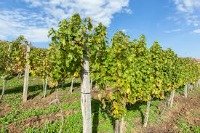 He said wineries knew from early January their vines were devastated.
"That's the Polar Vortex all the way," he said.
"There were I believe six extreme weather events during that last winter and I'm pretty sure the first one or two we were down to nothing."
He said if any grapes survive they might he hardier ones like Vidal.
But "as a percentage of potential yields" this might amount to "one per cent" of the total normal harvest.
There are some 1400 acres of grapes under cultivation in the county.
The lack of harvest this year is unprecedented.
"There's been winter loss before but on this scale absolutely not," Mitchell said.
That doesn't mean wineries won't bottle and sell product.
He said many will buy grapes from elsewhere.
"It really depends on the winery but some will be looking to Niagara for grapes and others will be working from the inventory they have and just kind of selling less," he said.
Wasn't the Niagara wine region - Ontario's largest - affected?
Not anywhere as badly as deep southwestern Ontario's vineywards.
Said Mitchell: "Niagara was affected less and that's thanks to Lake Ontario.
"Basically Lake Erie froze, (that) was more or less the problem – Lake Erie freezes and we don't get as much cold protection."
He said his own winery will buy grapes.
"We have to as we're in the LCBO general list and so our volume demands that we purchase grapes," he said.
The total "net" loss is in the millions of dollars though growers have crop insurance which mitigates loss.
As for next year's crop Mitchell said wineries have cut back vines and allowed new shoots to grow, training them to bear fruit.
WindsorOntarioNews.com