Toyota lops scenes of Jaycees' Canadian flag (continued)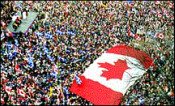 The company is running advertising in movie theatres showing historic moments over the last 20 years, one of which was the unity rally.
But Toyota snipped the footage because of concerns it would alienate Quebec audiences.
Toyota spokeswoman Rebecca Wu was quoted as saying that showing the event can be "very polarizing."
Toyota will replace the footage with a scene of an organic fruit stand.
The ads were shown in English-speaking Quebec cinemas and there had been no complaints.
"As someone who was born in Quebec, I am very much attuned to the political sensitivities that are in Quebec," Wu said.
---
What do you think about Toyota's decision? Click here to add a comment!
---
But when a reporter called the automobile company, it quickly reacted by removing the perceived offensive scene.
The flag was a last-minute contribution to the rally when Windsor Jaycees decided to drive to Montreal and attend the event.
When unfurled the flag's enormity captured the public's imagination and became iconic of the federal campaign to keep Quebec in Canada.
Jaycees' Barry Fowler did not return calls asking for comment.
But former Jaycee Drew Dilkens, now a city councillor for Windsor's Ward 1, said that what Toyota did made sense.
"It seems to me that what is happening is a perfect marketing campaign by Toyota," said Dilkens, who was not with the Jaycees when it made the trip to Quebec. "Any advertiser should strive to send a message that resonates with their audience."
He said that otherwise it could be a "waste of advertising dollars" and have a negative impact on Toyota's Quebec sales market.
York University marketing professor Alan Middleton said he was "not surprised" by the company's action saying it continues to show how "ridiculous" Canadian politics are.
But it makes good business sense, he said.
"Waving the flag in Quebec is at minimum controversial and at maximum potentially alienating."
However, removing the flag from the ads didn't appease separatists.
A spokesman for the Saint John the Baptist Society, said that instead of showing an organic fruit stand Toyota should have shown scenes of a pro-Quebec independence rally.
At the end of the day, Dilkens said, "Neither Toyota nor anyone else can rewrite history. That incident will remain a part of Canadian history forever."
WindsorOntarioNews.com