---
Amherstburg proposes first county farmers' market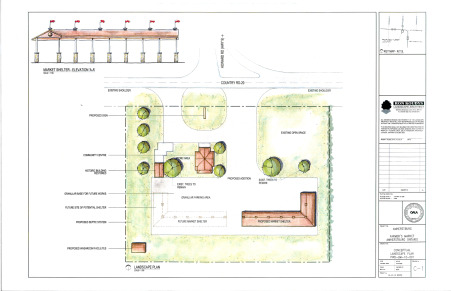 If successful the open air market, which would have a canopy, restrooms, parking, and which would be landscaped, could be open for business in 2011.
The location is at the site of the Malden Community and Cultural Centre, also known as the "little white church" because it was once a Roman Catholic chapel.
Town CAO Pam Malott says that location was chosen because it is underutilized, could use a higher profile, and is accessible to a wide cross section of county residents.
"We would certainly hope that this would be a regional attraction."
The town would pay a minimum $60,000 towards the project's cost with Ottawa picking up the remainder.
The town is applying for funding in the second round of applications for Community Adjustment Fund (CAF) monies.
Last year it was awarded almost $11.3 million that it used for an urban renewal project in Amherstburg's historic core.
While there is a year-round market in Windsor at Market Square and a seasonal market at the former downtown bus terminal, this would be the first such market in the county.
Malott thinks that with the region's rich agricultural industry it's a concept whose time has come.
"We think it's a great concept because it serves the entire agricultural sector very well," she says.
"Agri-business is a big buzzword these days. People are much more interested in growing local and eating locally-produced produce."
Besides farmers the market would also have artisans selling crafts.
Malott says there would be "nominal" fees charged to those who sell their wares. She says preliminary research has been done as to what other Ontario markets charge.
"We would certainly make it very attractive to encourage all of the local artisans and agricultural producers to bring their wares."
Larry Verbeke, president of the Essex County Federation of Agriculture, thinks the concept is good but doesn't think every farmer could take advantage of it.
Speaking for himself, he says he has too small an operation to sell goods at a farm market.
He says he makes more money selling to his traditional customers. He says if a farmer had to pay a fee for someone to attend the market stall that could also take away earnings.
But, he says, there's no question the concept could work for certain producers.
"For me I can't do that, other people can."
He says many producers also like selling from their farms in the federation-backed Buy Local campaign.
Verbeke says organizers should make sure that it is a true farm market and "not get out of hand" with vendors selling "T-shirts and jewelley and beads."
He says he knows of four of the federation's 1450 members who sell at Market Square and about four or five who sell at the Windsor downtown market.
WindsorOntarioNews.com