New box office, retractable seating for Leamington's Bank Theatre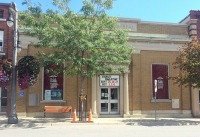 The recently acquired property will serve as an entrance, box office, and restroom area, in the first of succeeding phases of construction, to wrap up next summer.
This first phase will cost about $320,000, money which is already in place – half from the Canada 150 Fund and the other matching fundraising such as seat sponsorship.
Future work likely will be financed in part from a provincial Trillium grant.
"There's a lot of interest with the town and others to get that done because they're quite excited by what we've done so far," building committee chair Rick Taves said.
The theatre bought the first building, the former 1850s-era Bank of Montreal - located almost right at the town's main intersection - four years ago, after performing for 30 years in the Leamington Arena auditorium.
Besides the new entrance there will be a mezzanine that will have seats.
There will also be retractable ("very high quality," said Taves) seating that can be configured to various performance stages. 
"We can put a thrust stage in, for example, or we can have fashion shows," Taves said.
"We can also run cabaret theatre…that kind of flexibility will be available for us."
Altogether, seating will be roughly 200. 
Taves said some people have suggested there should more eating – as high as 500. 
"But no, to consistently fill a space, even places like Chatham and Windsor have trouble doing that kind of number," he said.
The 200 figure is based on the local market, Leamington itself having a population of almost 30,000.
The 50-year-old, non-profit, theatre company, home of the Sun Parlour Players, stages its own productions, and hosts touring companies, including professional groups from as far away as Toronto and Winnipeg.
In addition, there is live music weekly.
Taves said when the new theatre is built the company might consider performing summer stock, which it used to do in volumes.
"The thought within our group is that summer stock is probably in our future, when the theatre is complete," he said.
The fall season has largely been postponed though Taves said the company hopes to put on a Gilbert and Sullivan production after Christmas and is working with the Presbyterian Church "next door" for children's drama.
WindsorOntarioNews.com