Exhibit features legacy of legendary MC5 Detroit rock band (con't)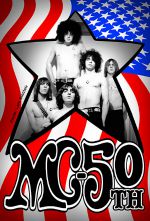 One, which got censored, featured the shout out "Kick Out the James, Motherfuckers!"
The tamer version replaced MF with "Brothers and Sisters."
The MC5 were also highly political and considered the house band of the radical White Panther Party.
An iconic poster showed the band members seemingly displaying White Panther Party buttons on their bare chests - ouch!
The band's other claim to fame was playing in Chicago during the 1968 Democratic National Convention's infamous protests and so-called "police riot."
Now the little museum at the corner of Southfield Rd. and Fort St. is featured in an exhibit of the band's paraphernalia until Labor Day weekend, after which a smaller exhibit will continue.
The exhibits from such an outrageous if seminal group of counter-cultural rockers is not what one might expect for an institution "lovingly cared for by a generation of folks now in their 80s and 90s," curator Jeff Day said.
But history is history, whether it's about the city's urban roots and early buildings to what has given it claim to fame in the more modern era.
As Day said, museum staff were "struggling to deal adequately with the community's more recent history."
Turned out this year just happened to be the MC5's 50th anniversary.
Tim Caldwell, a local music historian, and Day, discussed the band's legacy; and Jeff Richards (J.R.) Richards, a long-time music producer, came on board.
The exhibit features a treasure trove of band esoterica, from costumery to posters, rare photographs, to guitarist Wayne Kramer's signature American flag Stratocaster, even a drum cymbal signed by still playing drummer Dennis Thompson.
Most of the material was lovingly donated - temporarily - by local artists, collectors, even band members' families.
"We were quite overwhelmed at the response and quickly realized that many of the band's fans were happy to share their MC5 memorabilia with the rest of the world," Day said.
The exhibit would be fitting in many a larger museum.
As Day said, "The band's emergence from the mid-sixties garage rock to create their own proto-punk sound revolution - complete with White Panther Party affiliation and a legendary appearance in Chicago the summer of '68 - was unique to Detroit musical history."
But the MC5 was also nothing if not a local home town band, hailing from the streets of Lincoln Park.
Said Day, "While the group's influence spread far and wide, the small city roots were always with them."
WindsorOntarioNews.com