Olde Sandwich Towne will be explored through its food namesake (con't)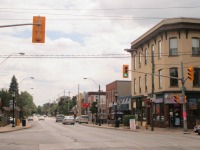 The idea is to look at new ways "to understand and experience the cultural, historical and economic" aspects of Sandwich and Windsor, the AGW says. 
As such it will "unveil the ways in which bread, sandwiches, lunchboxes and the kitchen collectively recall the historical and political identities of a city's past, present and potential future."
AGW curator Jaclyn Meloche says the starting point is the town of Sandwich, with its rare place name.
"It's certainly unique to Canada and to Ontario," though there are communities named Sandwich in the United States and England. 
And the sandwich as food item, ahem, was invented in the United Kingdom.
So, the name was an obvious inspiration of how "we might start thinking about the word 'sandwich' in relation to Sandwich, Ontario," the curator said.
"Everyone understands food, everyone has a relationship with food, different kinds of experience with it."
She wants to use food to "instigate conversation" about Sandwich's past, present and future, tying it to the region as a whole.
So, a collection of vintage lunchboxes will be part of the exhibit as will black and white photographs of famed restaurants that used to exist in Windsor and Detroit.
There will also be an exhibit by the late historical artist Fred Arthur Verner who grew up in Sandwich and painted landscapes there. 
There will be an exhibit by Windsor's Ian Baxter& (pronounced Ian Baxterand), one of Canada's best known conceptual artists and University of Windsor Professor Emeritus, and his whimsical, incisive takes on consumer culture.
Meloche is planning the exhibits with input from a committee made up of people from the local Sandwich BIA, chamber of commerce, university and tourism offices.
There will likely even be a sandwich contest as a way "we can engage with local food vendors," she said.
The exhibit links to Windsor as a larger community, taking note of the city's 125th birthday in 2017.
She said it will help "reflect on the historical identity of a city at a time of the post-Recession, post-Detroit bankruptcy." 
"Are we bouncing back, can we bounce back, how are we bouncing back?
"And I think there's a really interesting correlation there with restaurants, food and urban renewal." 
WindsorOntarioNews.com