DIA could become "town square"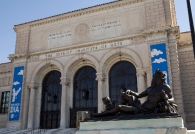 They want the museum's "campus" to be "highly visible, welcoming, flexible and functional" and to be able to support year-round activities like live music and outdoor art displays.

The other idea is to "physically connect" the museum, which opened on the site near Wayne State University almost one hundred years ago, to a variety of cultural institutions that rim it.

These include the Detroit Historical Museum, Detroit Public Library, the Detroit Science Center and the College for Creative Studies.

While physically close, those institutions ironically have littler foot traffic among them, except on Noel Night, held every year in early December when thousands descend on the buildings for free open houses and live entertainment.

In particular, private design teams are being asked to show how they would redesign the property to "encourage walkability, improve wayfinding, identify other opportunities for public art and programming and consider shared parking strategies and improved design."

The concept also plays into DIA director Salvador Salort-Pons' vision of a "town square" for the community, that is also part of the fast-developing Midtown Detroit district, which has seen burgeoning growth in new loft developments, restaurants and bars in the past 10 years.

"The essence of city life throughout the world is defined by expressive, and sometimes distinctive, public spaces that epitomize community by drawing everyone together, making interaction, activities and events the ultimate expression of vitality," Salort-Pons said in a release.

 "Together with our partner, Midtown Inc., and the rest of the cultural organizations, we know that the public space in Detroit's cultural district holds great promise for making our community a stronger, more diverse and inclusive destination."

The public could be wowed by what they see from the final three design teams when they make presentations at the museum Jan. 23.

Eight design teams presented their visions earlier this month, from a list of more than 44 original proponents.

WindsorOntarioNews.com
Photo: DIA