Transgendered-themed quilt at Michigan's ArtPrize (con't)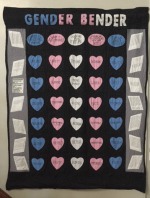 "Because this is not a stand back and look issue."
Cassidy's is one of two art works by local artists in this year's ArtPrize, where artists from around the world have their works on public display until October 9 in various, often unorthodox, locations, in the city's downtown.
Cassidy's quilt, measuring almost three feet wide and four feet in length, features a series of blue, white and pick hearts and others images. 
The art is a quilt because it represents "security, home, warmth, and acceptance," she said. 
"And that's exactly what we want to bring a spotlight to - transgender youth and their struggles to achieve that sense of security."
Those viewing the piece are encouraged to spin a spinner that lands on one of those hearts and read a set of questions – "for example, what is a safe place for you?"
Then they're asked to connect the best answers to the question.
The words on the hearts were chosen by local youth and the colours emblematic of the transgendered flag: five horizontal stripes - two light blue, two pink, and one white in the center.
"We have tried with this quilt to invite people to step past any barriers they feel about transgender and to touch the quilt," Cassidy added.
"Thus engaging in the conversation of understanding trans youth."
Here are excerpts from some of the quotes found on the quilt.
"Being transgender is like being a walking infomercial and punching bag; Not always in that order."
"It's not a phase. It's not an illness. It's not a trend. It's who they are."
There are six Canadian artists whose work is featured at ArtPrize this year.
WindsorOntarioNews.com