Customs plaza also targetted (continued)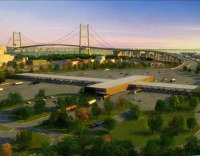 Save Ojibway founder Nancy Pancheshan says the plaza is located next to Black Oak Heritage Park, part of the so-called Ojibway Prairie Complex, which has five closely-located natural areas containing rare and a wide variety of plants and animals.
"The plaza, it's beside Black Oak," she said. "There's less than five places like it on the globe."Pancheshan described the absurd juxtaposition of the plaza, which would be located before a ramp leading to a new bridge connecting Windsor and Detroit.
"It just seems like a big Simpsons' episode," she said. "It's ignorant planning, not thoughtful."
But Pancheshan, a stay-at-home mom in the neighbouring community of LaSalle, who single-handedly started the campaign against the west Windsor big box development, said there's not much she can do at present about the Customs plaza.
That's because an Ontario Municipal Board hearing starts in January over the big box issue and she has her plate full with that.
"I can't focus on that when this hearing is in January."
Pancheshan has had support for her big box challenge, and has raised more than $10,000 to pay for professionals to represent her at the hearing. She has hired a Toronto lawyer, a hydrogeologist and other experts who will make presentations. She needs to raise $15,500.
"Like, I'm only one person," she said. "It has to be a community effort to protect our natural heritage."
But Pancheshan said she put the Customs plaza on her Save Ojibway web site "to educate people on what that's going to cost."
Besides the plaza, the activist also raised concerns about the DRIC access road linking the plaza to Hwy. 401. Known as the Windsor-Essex Parkway, it's expected to be under construction late next year.
The access road was the target of criticism several years ago because of its potential impact on the Ojibway Prairie Complex. But that criticism has died down in years since.
A provincial Environmental Assessment this summer gave the green light to the road.
The environment minister approved it subject to qualifications during the final detail design phase.
These include identifying potential impacts, developing mitigation measures, and providing these to provincial and federal authorities for review prior to construction.
As for the Customs plaza, a project that comes under federal jurisdiction, the federal environmental assessment has yet to be approved.
Transport Canada spokesman Mark Butler said the assessment is looking at the impact on Black Oak.
But, he said, there are a number of properties separating the park from the plaza so the two are "not immediately" beside one another.
Nevertheless, he said, mitigating the plaza's impact could include a natural berm to provide further separation.
Even plaza lighting could impact the park. If so "we'd redirect the lighting or use different types of lighting."
WindsorOntarioNews.com