Parkway public art (con't)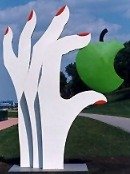 There will be wide swaths of natural areas – 300 acres altogether – that will top the 11 tunnels along the Parkway's 11 km route.
There will also be 20 km of recreational trails quite segregated from freeway traffic.
Plans call for decorative public art, similar to what exists in the Odette Sculpture Garden along the Windsor riverfront (see photo).
Larger scale sculptures, Parkway public documents say, will be "landmark references" or could "enhance the theme of a certain area."
Potential locations would be gateways or tunnel tops.
Then there is small scale public art.
These are "pedestrian scale elements to enhance urban spaces" and could be sculptures or commemorative elements.
Potential locations are rest areas on top of the tunnels or alongside municipal streets or service roads.
There is also so-called integrated public art.
This is art that enhances what otherwise could be nondescript structures like noise barriers and concrete overpasses.
More information is available on the Parkway's web site www.weparkway.ca
WindsorOntarioNews.com