---
Festival, running May 2- 5 features 10 feature films (con't)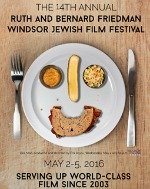 The festival features 10 films which all in some way touch on the Jewish experience.
But all are accessible well beyond the Jewish community and many in fact have been screened at general film festivals throughout the world.
After the admittedly larger Windsor International Film Festival (WIFF) in November this is the city's second major film event.
The Jewish festival is actually older that WIFF by two years.
All the films on tap at the Jewish festival are feature length, with many over the years nominated for or winning awards including the Oscars.
This year's opening night film is Remember, directed by acclaimed Canadian film maker Atom Egoyan starring multiple Academy Award winner Christopher Plummer.
The closing night film is Labyrinth of Lies.
Both films touch on the Holocaust, a familiar subject at the film festival.
Selby says while Holocaust films are important in depicting Jewish history the Jewish experience encompasses more than that, and this year's festival shows a broader perspective than some previous editions.
"We really try to avoid being too Holocaust-heavy and certainly try to avoid pictures of the camps and all those horrors," he said.
For example, Dough takes place in East London, pitting the last neighbourhood Jewish baker against a Muslim apprentice for unexpected humour and complications.
Deli Man is a sometimes humorous if bittersweet look at the once ubiquitous Jewish delicatessen in North America, including in Canada.
Apples in the Desert is about a young kibbutz woman who rebels against her Orthodox father.
And The Dove Flyer, set in Iraq's 1950s Jewish community, is a coming of age story of a young man growing up during a growing climate of anti-Semitism.
Natalie Portman stars in A Tale of Love and Darkness, a memoir of life in Jerusalem under the British Mandate through the country's Independence.
Tickets are $10 cash at the festival or can be purchased at the Windsor Jewish Community Centre, 519-973-1772.
The entire festival line up can be viewed at www.jewishwindsor.org
WindsorOntarioNews.com