---
Artists' sticker campaign against the mayor (continued)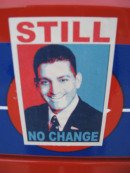 The stickers are takeoffs of the famous Barack Obama "Hope" poster from last year, a red white and blue painting with a drawing of Obama designed by U. S. artist Shepard Fairey and which became a symbol of the the president's 2008 campaign.
The Windsor version of the sticker has Eddie Francis in the place of Obama and instead of the word Hope it has various slogans, all negative. One says Still No Change. Another says instead of Obama's Yes We Can, No We Can't and a third F--- You Eddie.
One sticker was found on a Canada Post letter box in front of a well-known midtown office supplies chain store.
But they have been put up throughout the city but mainly around the University of Windsor and St. Clair College, says an artist who knows people in the group but is not part of it.
The artist, Dan Bombardier, is a downtown gallery owner and says the campaign reflects the "frustration" of artists with the current city administration.
"I think it's hilarious and yeah I support it."
He says artists, many of whom live and work downtown, are particularly distressed over the decline of the city's core in recent years.
He said that during Francis's time in office the downtown has declined from being "heavily populated" to being overtaken by "crack heads."
"It's almost like they want downtown to die, to crumble." He said the mayor lacks any sort of vision for downtown and the city at large.
"I don't see the imagination and creativity that I believe the mayor requires."
And he suggested proposals to revitalize the city that have come from the mayor's office are absurd, such as the downtown canal which would have shops and residences along it. "I think the mayor's on drugs," he said.
Bombardier said the city always has had water access and the difference in height between the canal and the river is 30 ft. so the plan doesn't make sense.
He also criticized the city for steep downtown taxes and rigorous parking enforcement that discourages people from investing or visiting the core.
And he said traffic management in the city is atrocious. He said it takes "30 or 40 minutes" to get from the end of Hwy. 401 to downtown. "No one's coming downtown because it's a pain in the ass."
Paul Synott, with the municipal activist group Citizfaction - which successfully campaigned for a 10-ward system for the city, which will be reflected on next fall's municipal ballot – said the stickers are a sign of the increasing politicization of local artists.
"I think the arts community has become more aware of municipal politics over the last several years and how it affects them," he said.
"The Obama poster was a good example of how art as a medium can be used to reach out and engage people in the political process. I have heard a lot of local political discussion from artists over the last while, more than I have at any other time."
Synott said it remains to be seen whether artists are ready "to take the final step" and get involved in the election,"as candidates, volunteers or even as voters."
WindsorOntarioNews.com