New peace sculpture designed with selfies in mind (con't)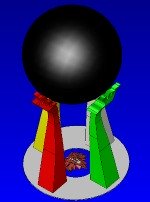 "In today's global climate, diversity and differences seem to be pulling our communities apart rather than bringing us closer together and it is more important than ever to make sure that positive messages are there to combat the negative." Abdul Hai Tahir, the organization's vice president, says in a letter to the city.
The sculpture has a base made up of four hands in different skin tones holding up planet Earth made as a reflective globe.
"The sculpture is meant to remind us that despite our exterior differences, we are all the same on the inside, and that the only way we can achieve peace as a whole is to work together in harmony," Tahir said.
Noting the fact the globe would be in a public space and the way people take pictures nowadays, the design is meant to be photogenic.
As such the globe will be constructed of stainless steel to allow the public to take pictures with their reflections on it.
""This will give the sculpture an interactive component which will create interest and work well with today's selfie culture," the letter says.
The Muslim organization will pay for the cost of the sculpture as well as installation and maintenance.
The city's cultural affairs manager Cathy Masterson told the Community Public Art Advisory Committee in July that there are "two sculptures quite similar to their proposal" and said space is available in Reaume/Coventry Parkopn Windsor's eat waterfront. 
The matter goes before Windsor's Social development, Health & Culture Standing Committee Sept. 7.
WindsorOntarioNews.com