Leamington amphitheatre could be operating this summer (con't)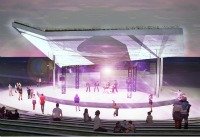 "If they approve it in February I'm hoping to get it built by the beginning of July...to get it built, functioning, we've got an act playing here beginning of July, that would be my target if it gets approved," Sharon said.
"It's a short timing window but we really want to see it go."
But plans have been well underway for some time with homegrown engineering and architectural firm Baird AE doing the design work.
Sharon envisions a 20-metre wide stage with a modern canopy overhead and seating built into the hill which leads down to the water.
"In trying to right size this thing for Leamington because certainly you don't want to build some huge thing and you get a good local turnout and it appears that the place is empty," Sharon said.
"But then you also want to have the capacity to be able to deal with larger acts."
The theatre would have built-in benches in the hill and there would also be space where people could watch from the grass. 
He said planners are "trying to get it to a point where if a small band with a couple of guitars wanted to go down there and play and a few dozen people showed up it would work for them. 
"And then if we had a bigger act in there and we wanted to get 7-800 people down there we could do that as well."
Sharon hopes to put a final price tag on the structure early in February.
There would be no matching funds from other governments as there was for the recent volleyball court installation along the waterfront, part of the overall town waterfront master plan.
Asked if the amphitheatre could take Leamington up a notch as a town that could draw regular professional musical and other acts, at least during the summer, Sharon didn't hesitate to agree.
"That's absolutely part of the plan, that's the driver for this."
He said council has approved a dedicated tourism officer, though funding has yet to be granted, whose job in part would be to book such acts, which could be professional travelling performers from, say, around the province.
To make sure the amphitheatre meets a wide variety of performers' needs Sharon met with local musicians.
"The last thing I wanted to do was build an amphitheatre and have the people that use it to come back to me and say 'that doesn't work for us you should have done this, this and this, and we don't like playing here.'
"So we're really trying to make it friendly to the acts."
WindsorOntarioNews.com