Luxury seats, "immersive" experience but still no alcohol or gourmet food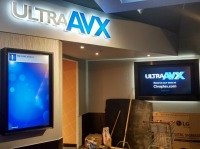 "We have no plans at this time to roll-out alcohol sales at Cineplex Odeon Devonshire Mall Cinemas," company spokeswoman Sarah Van Lange said.
And the reason Devonshire was chosen rather than Cineplex's Silver City was because Devonshire was "scheduled for a facelift and we felt as though recliner seating would resonate with the community."
There are no current plans for a similar retrofit at Silver City.
The new seats are extra wide with footrests that can be raised with the push of a button.
Many other Cineplex cinemas across the country have already received the treatment. 
As for upgraded food and liquor, those services take place in the VIP locations, which are "adult-only" and also have a lounge.
"VIP Cinema guests can order from an expanded food and beverage menu – which includes a wide selection of wines, spirits and premium craft beers," Van Lange said.
More than that, the food is gourmet.
It includes salads, burgers, artisanal cheese plates, charcuterie boards and flatbreads.  
"And all of these items are available in the lounge or can be delivered right to their theatre seat," Van Lange said.
In addition to the VIP cinemas, Cineplex also sells alcohol "at certain theatres" and has been doing so since 2010, she said.
Meanwhile, Devonshire will also feature the area's first "immersive" UltraAVX cinema. 
It features ultra high-definition digital projection and "powerful" Dolby Atmos surround sound, according to a company release.
It will also feature one row of D-BOX seats, which move with the action of the big screen.
UltraAVX seats are priced several dollars higher and D-BOX seats are priced over $20.
WindsorOntarioNews.com
Photo by WindsorOntarioNews.com shows the UltraAVX theatre under construction at Devonshire.