---
Big changes for Fort Malden (con't)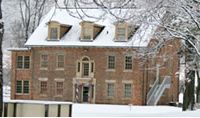 Park manager Jennifer Duquette said park staff has for some time wanted to "revitalize" the fort and now, with the money, "as we near the bicentennial it has worked (out) quite nicely."
Among the changes:
- There will be a new south entrance to the fort from Dalhousie Street, connecting to the downtown's north-south riverfront street, which already has numerous commercial and public tourist attractions including Navy Yard Park.
- The museum building has been gutted and is being refitted for newly designed exhibits.
- A palisade or fence will be erected on top of a southern berm west of the barrack and parade square to help create more of the feel of an actual fort.
- The park will not charge visitors who wish to simply enter the grounds to walk around and enjoy the river, returning it to a kind of free public park before admission began to be charged for the entire site in recent decades.
- On the other hand the park will continue to charge admission to the museum, parade square and barrack – that area to be better defined by the palisade.
Park staff consulted town officials and residents, which led to some of the changes, such as the new south entrance.
"We realized that that natural flow...to the community was not there," Duquette said.
Up to now visitors would have to enter the front gate on Laird Ave., a few blocks away, and not where many downtown tourists gather along Dalhousie.
There will also be new benches and interpretative signs around the site.
And the fort will have extended hours, closing at dusk.
"So people can come over and have a picnic, they can wander over from Toddy Jones Park and picnic along the river and then go back or come in and enjoy the museum," she said.
As far as work on the museum itself, the floors are being refinished and the building, constructed in 1861, will be brought back to its "heritage character," Duquette said.
Several windows that had been covered by interior walls have been exposed to allow more light with UV acrylic screening to protect the exhibits.
In addition, the exhibits will include the story of the fort in its post-military role.
For example the museum building used to be a lunatic asylum, then a planning mill, with grounds sectioned off for residences.
"So the visitor will have a reference point and be able to understand where they're at and why the site looks like it does today," she said.
"We're a site that doesn't look like a fort and we're going to try to tell that story a bit more."
WindsorOntarioNews.com