Boardwalk of different kind (continued)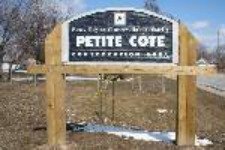 The boardwalk is in the small and almost unnoticed conservation area, Petite Cote in LaSalle, which the Essex Region Conservation Authority built in 2007 and is a provincially significant wetland. That's rare on the Detroit River.
The main recycled components of the boards are grocery bags and sawdust.
Kevin Money, ERCA's managing director of conservation, said the recycled material cost about one-third more than real wood but it also has "probably twice the lifespan."
The boardwalk stretches 1000 ft. through marshland to a lookout tower.
The small site is often overlooked by motorists. But there are several places to park and a picnic table. "It's not as well used as it could be," Money admits.
Petite Cote is in LaSalle immediately north of River Canard. Money said the site would benefit from a boardwalk extension if it could be done without harming the wetland.
Though Petite Cote is rather new ERCA acquired the land about 20 years ago. Money said there isn't much available land at the mouth of the Canard river.
Petite Cote might look like the area's smallest conservation area. But it's not. That honour belongs to McAuliffe Woods in Tecumseh.
Windsor Ontario News