Visitor-friendly signs (continued)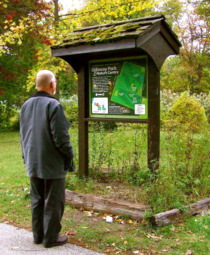 The signs were produced by graphic artist Scott Hughes, whose portfolio includes more than 100 interpretative signs for the Essex Region Conservation Authority's conservation sites.
He also designed the original templates for signs along the Chrysler Canada Greenway. His work can also be seen on interpretative signs at Point Pelee and along Windsor's riverfront.
The signs combine photos, text and maps. Hughes, who has also illustrated local nature books, said the project was a labour of love. He said it made use of his graphic talents "and my interest, since I was a little boy, in nature."
"I've had so many people come into the nature centre raving about them," Cedar said.
This included one visitor who wrote down every single word. "He was going to take them home and re-read it because he just thought it was so fascinating."
WindsorOntarioNews.com