Cheap Transit Windsor passes (continued)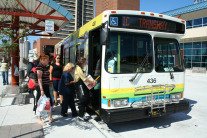 Transit officials say the cheaper fares would help people living below the poverty line.
It would also be a way to boost overall ridership.
Boosting passenger numbers would allow the city to obtain more funding under the federal gas tax rebate.
Its last rebate was $3.9 million.
"We are looking at trying to make the transit service more affordable so that people can go out and enjoy the quality of life," transit manager Penny Williams said.
Under the proposal there would be a family day pass where one parent accompanied by up to four children under age 12 could ride buses for $7.50.
Williams said the transit board of directors saw the current fares as creating a "barrier" to low income people. "They can't go to a doctor or any type of appointment because it's just not affordable."
Should another parent wish to travel that person would pay $7.50 for an individual pass.
Another proposal is an "open window" transfer.
Unlike current transfers which only allow passengers to change buses if they are going in one direction, this would allow passengers to return from their destination so long as it was within a specific time frame.
"It can be used for any direction of travel including return trips and stopovers providing that the window hasn't expired," Williams said.
The industry standard for transfers is 60–90 minutes and Transit Windsor hopes to make this 90.
Williams said what will allow the initiative is a new electronic fare box that can spit out day passes and validate transfers. She said this would alleviate any conflicts between passengers and drivers. "It will actually be date and time stamped."
The transit agency will be installing fare boxes mid to late 2010 so changes wouldn't take effect until after that time. The cost is $2.6 million which came out of the capital budget.
But Transit Windsor would move to a single cash fare for all passengers.
Instant Coupons - just click and save!
Williams said the new options would allow overall better prices and would "offset" any increase in the single fare price.
Strips of tickets would still be discounted. Ten tickets for adults cost $21.30 or $16.40 for seniors. A new price for seniors would probably be $16. Those prices are "actually less per ride than the cash fare."
The company's monthly pass would remain intact.
Caroline Postma, city councillor and Transit Windsor chair, says Transit Windsor is also considering a monthly pass of $40 rather than $79 for those who live under the poverty line. "We're looking at it for anyone who meets the low income criteria," she said.
The company recently reduced the price of a pass for people on disability from $79 to $40.
"Hopefully we'll have a decision, I want to say, December, January," she said.
Williams said any decision on passes and fares would be subject to whether the agency could incorporate them into its budget. The company is subject to guidelines by city council.
Windsor Ontario News